Santa arrives in a Coral Springs parade Nov.13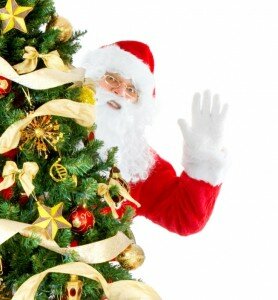 Santa Claus will be sleighing into Coral Square Mall South Florida-style on Saturday, November 13 at 4 p.m. to usher in the holiday season. His arrival marks a fun-filled season of spectacular shopping and special events.
The holly, jolly fellow will be perched atop Coral Springs Fire Department's shiny red fire truck and will be accompanied by the Coral Springs Police Department motorcade. A parade will immediately follow featuring the Coral Springs Professional Firefighters Pipes and Drums Band. Complimentary candy canes will be provided by Santa. Radio Disney will be on-hand to warm-up Santa's Winter Wonderland Set with additional games and prizes. Kids will receive antler hats and have the opportunity to write a letter to Santa and make magic reindeer food. Also, in celebration of Universal's Despicable Me Blu-ray and DVD release on December 14, "Minion" beanie hats will also be distributed. Families will have the opportunity to submit photos with the mischievous little "Minions" to win gift card prize packages daily online at
Families are also invited to capture the happy holiday moment, daily, with Santa photos through December 24. Pets will also have their yappy Yuletide spotlight on November 18 and December 2 from 6 – 9 p.m. Before the kids step up to St. Nick with their wish list, they can also channel Santa's generous spirit by collecting "BeMerry badges" by visiting simon.bemerrysanta.com . When completing an act of sharing, caring, healthy choices, good manners or helping others, Santa's magical online "Badge Generator" will produce a custom badge they can print out to bring to Santa, where he will reward them with BeMerry stickers. Families also can follow Santa on Facebook at or .
South Florida parents can also earn their own generosity badge by making a donation to Save the Children, an independent organization that aids underprivileged children in dire need across the United States. Fans of American Idol can also enter to win a trip for four to a taping in Hollywood with backstage access.
And, in keeping with the musical merriment, on November 21, Coral Square Mall will present two free concerts by up-an-coming artists, Mindless Behavior. The band is a dynamic group of young men armed with limitless talent, drive, energy and a fearless passion for music and performing. Barely into their teens, the quartet is poised to change the musical landscape with their fusion of pop, hip hop and R&B beats.
"We're incredibly excited about this year's eventful holiday season," said Xiomara Fraga, director of marketing and business development for Coral Square Mall. "Santa visits, local and regional events, charitable activities and a variety of free holiday entertainment all add up to make Coral Square one of the area's premier family shopping destinations."
Beginning November 26, Coral Square Mall aims to make finding the perfect gift a tasty experience by offering fresh-baked Nestle Toll House chocolate chip cookies every weekend through Dec.19. And, the City of Hope will be providing gift-wrapping in front of JCPenney's through December 24. Families are also encouraged to visit the Salvation Army's Angel Tree and select a wish to fulfill for an underprivileged child.
On December 4 at 8:30 a.m., Coral Square Mall will be hosting its annual Simon Kidgits Club® Holiday Celebration where children are invited to enjoy breakfast with Santa as he reads "The Night Before Christmas." ABC Family will also be promoting its 25 Days of Christmas television programming.
"Our mall offers hundreds of retailers, thousands of brands and a great selection with tremendous value," said Fraga. "And, to provide guests with a refreshing, quality and convenient shopping experience we are offering Simon Giftcards®, Rejuvenation Stations and free WiFi," she added.
Fraga also said Coral Square Mall will open its doors at 5 a.m. on Friday, November 26 — the official start to the holiday shopping season — so families can get an early start and capitalize on many specials.
This year's holiday happenings at Coral Square Mall are sponsored by Gymboree, Nestle Toll House, ABC Family, Universal's Despicable Me, Build-A-Bear Workshop and The Disney Store.
Coral Square Mall, owned by Simon Property Group, features anchor stores macy*s/Ladies Apparel, macy*s/Men's, Children & Home Store, JCPenney and Sears, as well as more than 120 specialty stores and fine eateries. The mall is located at 9469 West Atlantic Boulevard, Coral Springs, Florida 33071 (on the corner of University Drive and Atlantic Boulevard). Consumers can follow the activities at Coral Square Mall on Facebook at or Twitter at .
For more information, please call Coral Square Mall at (
Coral Square Mall Holiday Schedule
Special Activities:
Saturday, Nov. 13 from 4 – 6 p.m. Santa's Arrival with Candy Cane Parade, Coral Springs Fire and Police Dept., Radio Disney
Saturday, Nov. 13 – 24 – Photos with Santa
Thursday, Nov. 18 & Thursday, Dec. 2 – Pet Photos with Santa
Sunday, Nov. 21 – Mindless Behavior – two :30-minute concerts
Thursday, Nov. 23 – Dec. 24 – Salvation Army Angel Tree
Friday, Nov. 26 – Dec. 24 – Free Nestle Toll House chocolate chip cookies every weekend through Dec.19. City of Hope gift-wrapping; ; other activities TBA
Saturday, Dec. 4 – Simon Kidgits Club® Holiday Celebration (free to Kidgits members; $5 annual membership fee for new members.)
Nov. 26                              Black Friday – 5 a.m. to 10 p.m.
Nov. 27                              Saturday – 8 a.m. – 9 p.m.
Nov. 28                              Sunday – 11 a.m. – 6 p.m.
Nov. 29                              Monday – 10 a.m. – 9 p.m.
Nov. 30                              Tuesday – 10 a.m. – 9 p.m.
Dec. 1                                10 a.m. – 9 p.m.
Dec. 2                                10 a.m. – 9 p.m.
Dec. 3                                10 a.m. – 9 p.m.
Dec. 4                                10 a.m. – 9 p.m.
Dec. 5                                11 a.m. – 6 p.m.
Dec. 6                                10 a.m. – 9 p.m.
Dec. 7                                10 a.m. – 9 p.m.
Dec. 8                                10 a.m. – 9 p.m.
Dec. 9                                10 a.m. – 9 p.m.
Dec. 10                              9 a.m. – 10 p.m.
Dec. 11                              9 a.m. – 11p.m.
Dec. 12                              9 a.m. – 10 p.m.
Dec. 13                              9 a.m. – 10 p.m.
Dec. 14                              9 a.m. – 10 p.m.
Dec. 15                              9 a.m. – 10 p.m.
Dec. 16                              9 a.m. – 10 p.m.
Dec. 17                              9 a.m. – 11 p.m.
Dec. 18                              9 a.m. – 11 p.m.
Dec. 19                              10 a.m. – 10 p.m.
Dec. 20                              8 a.m. – 11 p.m.
Dec. 21                              8 a.m. – 11 p.m.
Dec. 22                              8 a.m. to 11 p.m.
Dec. 23                              8 a.m. to 11 p.m.
Dec. 24                              7 a.m. – 6 p.m.
Dec. 25                              Mall Closed
Dec. 26                              6 a.m. – 9 p.m.
Dec. 27                              10 a.m. – 9 p.m.
Dec. 28                              10 a.m. – 9 p.m.
Dec. 29                              10 a.m. – 9 p.m.
Dec. 30                              10 a.m. – 9 p.m.
Dec.31                               10 a.m. – 6 p.m.
Jan. 1                                 10 a.m. – 6 p.m.
Jan. 2                                 Mall returns to normal hours
Related posts:
Square Mall's Kidgits Valentine's Day Party on Saturday, February 13
Short URL: https://browardnetonline.com/?p=10481
Posted by
Andrea Freygang
on Nov 7 2010. Filed under
Broward County
,
Coral Springs
,
Events
,
Families
,
Holiday
,
Local news
. You can follow any responses to this entry through the RSS 2.0. You can leave a response or trackback to this entry