Halloween events in Broward 2010
This is a work in progress, so check back regularly as events are added to this list! Email Halloween/Fall festival events to Click here to enter our Halloween Costume Contest. Post your best pics of Halloweens past to win a four-pack of to the Halloween Festival at Snyder Park.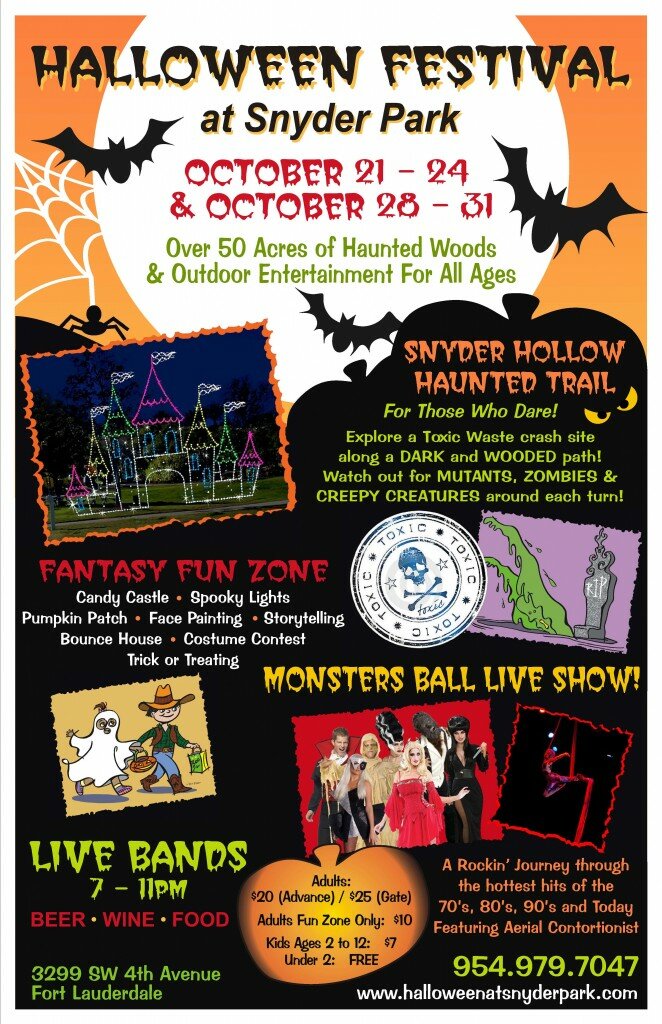 Coconut Creek
Halloween Business Expo
Presented by the Coconut Creek Chamber of Commerce and City Of Coconut Creek. Wednesday, October 27, from 5 p.m. to 7:30 p.m. at the Community Center, 1100 Lyons Road, Coconut Creek. Free, and open to the public to check out local businesses. For $5 admission, you can also enter the "Taste of Coconut Creek Room". If you would like to reserve a booth, contact Dottie at or logon http://www.creekchamber.com.
Haunted Creek
Meet the stars of HBOs True Blood series at a free meet and greet at Seminole Coconut Creek Casino.
On Oct. 16 meet Joe Manganiello and Lindsay Pulsipher from the show from 7-9 p.m.
On Oct. 23, meet the star of The Exorcist, Exorcist II and other films Linda Blair at a free meet &
greet on Horror Movie Weekend, part of Seminole Casino Coconut Creek's The Haunted Creek
weekend October events. This is from 7-9 p.m *21 and over please*
Seminole Casino Coconut Creek, Nectar Lounge, 5550 NW 40th Street, Coconut Creek. For more info call or visit www.seminolecoconutcreekcasino.com
Cooper City
Trick or Treat Shop to Shop
Join our little ghouls and goblins as they gather goodies at the Countryside Shops of Cooper City located at the corner of Stirling and Flamingo Roads….Trick or Treat and Costume Contest held in south drive.  Please arrive early! Saturday, October 30,10 a.m. – Noon at Country Side Shops of Cooper City (corner of Flamingo Road and Stirling Road) Children may go from store to store seeking treats.
Costume Contest Times:
1 and under          10:10
2 years old           10:20
3 years old           10:30
4 /5 years old       10:40 (have not entered K)
Kindergarten         10:50
1st grade              11:00
2nd grade             11:10
3rd grade              11:20
4th grade               11:30
5th grade               11:40
Middle School       11:45
Participants need to arrive 5 minutes prior to their scheduled contest time to receive their entry number and line up at the south parking lot area. Call the Community Center for more information (x233
Davie
Davieween Happenings
Pine Island Park Multi-Purpose Center, 3801 S. Pine Island Road, October 24, 1pm to 4 pm
This event will feature the South Florida Trail Riders and Horse Costume Contest. For a fee:  Halloween Pumpkin Patch, Snacks and Food. FREE: Bounce Houses, Climbing Wall, Spooky Music with DJ Jeff , Petting Farm,Costume Contest(begins at 3:00 pm) with three age groups: 5 & under, 6-8, 9-12. Fun Contest for Kids of all Ages! All times, dates and activities are subject to change.
Fort Lauderdale
The Village of Horrors
Halloween Festival featuring two full-scale haunted houses, three panic zones, a craft & peddler's row, and a world of wonders of freaks & oddities. NO COSTUMES ALLOWED! Not recommended for children 13 and under. Get tickets at: www.ticketmaster.com.
Other Info: Dates for Village of Horrors: October 8, 9, 14, 15, 16, 21, 22, 23, 27, 28, 29, 30, 31 Prices: $13 one-time admission to haunted houses; $25 unlimited admission to houses and world of wonders; $30 unlimited admission to houses + express line; $40 unlimited admission to houses and world of wonders + express line; $50 four-pack of one-time admissions (advance only). $1.00 facility fee will be added to each ticket. Tickets purchased on day of event add $5.00.  Contact:  Amanda Ances  Phone: 561-681-5600
7 p.m. to midnight. 800 NE 8 Street, Fort Lauderdale. http://www.villageofhorrors.com
Shooters Halloween Costume Contest
Saturday, October 30, 2010 is Shooter's annual Halloween Costume contest. Huge costume contest, music, dancing, food and beverages. 6 p.m. to midnight. Shooters, 3033 NE 32 Avenue, Fort Lauderdale. Contact: Candace Graham, Free. http://www.shooterscafe.com.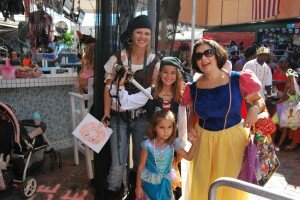 Halloween and Red Ribbon Event
October 29, 3:30 – 4:30 p.m. Free music, games, talent show, and refreshments, for ages 6 to 17. For particpants in the park's After-School Program only. FREE. Ages 6 to 17 at Event sponsored by Broward County Parks and Recreation Division.
Halloween Dance and Party
October 29, 3 – 5 p.m. FREE Free music, dance, and refreshments, for ages 6 to 17. Franklin Park, Sponsor is Broward County Parks and Recreation Division. Contact: Franklin Park,
Halloween Party
October 29, 4-5 p.m. FREE. Lafayette Hart Park, . Free costume party and contest with refreshments, for ages 6 to 17. Sponsor is Broward County Parks and Recreation Division. Contact: Lafayette Hart Park,
Hollywood
ARK BOO BASH
Oct. 30 Enjoy safe Halloween fun for children of all ages at the ArtsPark at Young Circle. Children's activities and Candy. 7-10 pm. ArtsPark is located and US1 and Hollywood Blvd. FREE. For more information call
Oakland Park
Halloween Fun
On Friday, October 22, a teen dance will be held at the Collins Community Center, 3900 N.E. 3 Avenue, from 7 to 10 p.m. for children who are in grades 6 to 9 or are 11 to 15 years old. Admission is $3 per person. School Board dress code applies. Proof of age and/or grade is required. Also on Friday, only for the brave of heart, a Haunted House, located in the batting cage on the South side of Wimberly Field, will be open from 7 to 10 p.m.
On Saturday, October 23, Wimberly Field will be awash in scary monsters and beautiful princesses as the main event kicks off at 4 p.m. The costume contest judging begins at 5 p.m. and is divided into the following age groups; 3 years and under, 4-5 years, 6-8 years, 9-11 years, 12-15 years and 16-Adult/Family. There is also a "group" category for Homeowner and Neighborhood Associations.
Carnival rides and game booths will open at 4 p.m. and the Haunted House will open at 6 p.m. A free treat bag will be given out on a first come, first served basis to 1,000 children at Wimberly Field on Saturday, October 23 at 4 p.m. For additional information, please call Parks and Leisure Services at
Parkland
Teen Halloween Dance
October 22, 2010, 6:30-9:30 p.m.at 10559 Trails End, Parkland, FL 33067 inside the Parkland YMCA. Contact: Email: . Cost: $7 in advance $10 at the door.
Hayride and Bonfire
October 22, December 3, and January 14. Equestrian Center, 7-9 p.m. Parkland residents only. LIMITED SPACE- Must Pre-Register. The City of Parkland invites all Parkland residents to the Hayride and Bonfire at the Equestrain Center. Bring lawn chairs to sit around the fire and enjoy S'mores. This event is Free and call to register.
Pembroke Pines
BOO-VILLE
October 30, 6-9 p.m. $2.00 per child 17 and under . Come out for a SPOOKTACULAR TIME! HALLOWEEN ACTIVITIES! Costume Contest, Pumpkin Patch with prizes, Holiday Shows, Spooky Strolling Characters, RIDES, Trick or Treat Stations, and many more surprises. Be sure to arrive early to catch the shows…
Haunted Howl O' Win is your chance to win special prizes. Special Jack O' Lantern bags filled with prizes are $3.00 each or 2 for $5.00. All proceeds will benefit the City's Special Population Program wheelchair fundraiser. For additional information contact the Special Events Office at
Plantation
A Family Halloween & Safety Festival
Saturday, October 23, 10 am -2 pm at Activities: Police & Fire Safety Exhibits, Carnival games & Activities, inflatables, Face Painting, Raffles & Door prizes,Free Candy and Halloween bags for children Haunted House (Not suitable for children under 6 yrs.) ADMISSION: $2 PER PERSON
Pompano Beach
Halloween Celebration
October 27 at Pompano Citi Centre, Federal Highway and Copans Rd., Pompano. 5:30 – 7:30 p.m. Bring the kids out for a safe, fun Halloween! FREE!! Kids 10 & under. Halloween Costume Contest – 7pm Must Register at Stage by 6:45 pm. Candy, Magic, Music & Games for everyone.
Halloween Party
October 27 – Mitchell/Moore Center, , – 6-8:30 p.m. Admission: $2/child 13 and under. Join us for dancing, various games & costumes contest. Refreshments will be served.  For more information call
Halloween Fun Fair
October 28 – Amphitheater Parking Lot, – 6:00 pm – 8:30 pm. – Magic Show, Treats, Bella the Clown and Friends, Fun and Games for children 10 and under.  Admission 2 canned goods or $2/child.  For more information please call
Tennis Center Halloween Social
October 30 – 10:30 a.m. – Pompano Tennis Center, . $10/Members; $12/Non-members.  For more information call
Sunrise
Fall Harvest Festival
Sunday, October 10, 3 to 5:30 p.m. Grab your overalls and bring the whole family! Participants will enjoy games, music, arts and crafts, face painting, a costume contest and a horse-drawn hayride. Welleby Park, 11100 NW 44th Street, Residents $5, Non-Residents $10, Non-Participants are free.
Weston
Free Halloween Safety Expo
Friday, October 29, 2010 6-9 p.m. Sponsored by the City of Weston and Broward Sheriff's Office. Tequesta Trace Park, . Please join us for an entertaining, action-packed, safe Trick-or-Treating event. Live entertainment, Police & Fire Exhibits, DJ music, Pumpkin Patch, Bloodmobile. Wear you're cutest or spookiest costume as there will be Trick-or-Treating. Be sure to bring a bag for the goodies…
Wilton Manors
Halloween Spooktacular
Friday, October 29, 2010 at 5:30 to 9 p.m. Wilton Manors Elementary,
Palm Beach County
Haunted Halls of Horror
Delray Beach Community Center, 50 NW 1st Ave. Times: Thursdays: 6:00 – 11:00 p.m./ Fridays & Saturdays: 6:00 – Midnight/ Sunday, October 31st: 6:00 – 11:00 p.m. Website: http://www.hauntedhallsofhorror.com Contact Phone: 561-585-7771 The Haunted Halls of Horror conjures up images of a dark, musty mansion, situated on a distant foggy mountain, in a far off land. As you approach with trepidation, the hairs on the back of your neck stand up, your arms fill with goose bumps, your knees begin to shake.
X-Scream Halloween at G-Star
Over 70,000 square feet of terror! ALL NEW FOR 2010 in West Palm Beach, 2030 S Congress Ave. http://www.xscreamhalloween.com Contact Phone: 561-386-6275
Miami-Dade
House of Horror Amusement Park,
October 7-31, 6 p.m. to midnight. Miami International Mall, . Contact Phone: 305-668-4343. http://www.houseofhorrorpark.com House of Horror is Miami's only Pro Haunted House. This professionally produced haunted house amusement park includes a two-acre haunted house, four-acres of shriek inducing rides, the hottest musical acts and fun for guests of all ages.
Related posts:
Short URL: https://browardnetonline.com/?p=9788
Posted by
Andrea Freygang
on Sep 20 2010. Filed under
Broward County
,
Coconut Creek
,
Coral Springs
,
Dania
,
Davie
,
Deerfield Beach
,
Events
,
Fort Lauderdale
,
Holiday
,
Hollywood
,
Lauderdale Lakes
,
Lauderdale by the Sea
,
Lauderhill
,
Local news
,
Miami
,
Miramar
,
North Lauderdale
,
Oakland Park
,
Palm Beach
,
Parkland
,
Pembroke Park
,
Pembroke Pines
,
Plantation
,
Pompano Beach
,
Southwest Ranches
,
Sunrise
,
Tallahassee
,
Tamarac
,
West Park
,
Weston
,
cooper city
,
margate
,
wilton manors
. You can follow any responses to this entry through the RSS 2.0. You can leave a response or trackback to this entry