Heads Up Report: Henry's of Delray Beach
Thanks, again, to t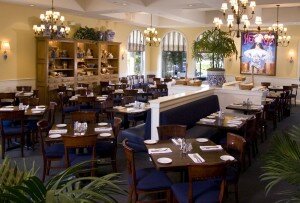 he fine folks (Hope and Julie you both rock!) at t.b.a.—the buzz agency—because they set up a tasting for me at Henry's of Delray Beach this week so I could do my weekly "Head's Up Report" for the Food for Thought Radio Show. I am super appreciative too because without their help, I probably wouldn't have ever gotten to experience this fine eating establishment because it is not a path I usually travel nor an area I've ever really been to.
Henry's, named after a dear and departed King Charles Spaniel who lives on in the establishment's artwork, has a great location, squarely in the middle of gated-community-paradise, I wasn't sure what I was in for. The website billed Henry's as "gourmet American comfort food" and I had visions of poorly prepared and overpriced meatloaf and mashed in my mind. I was very wrong.
It was easy to spot Henry's because the parking lot was packed at 7 p.m. on a Tuesday Night, and good thing we had reservations as there was not an open seat in the house and a lounge full of diners as well. The crowd was a little higher in age than we were, but the place had a nice, festive, bright, cheerful, and lively vibe to it.
GM Bryan Cox (who made us feel like superstars!) suggested and delivered the appetizer part of our meal, which consisted of a light and delicious Henry's Salad. Bibb and leaf lettuces, gruyere cheese, garlic croutons, Dijon vinaigrette, and a sliced green apple or two and some sweet Pecans for $4.95. I can't imagine a lighter and fresher salad. Franks and Blanks was another, and that was accompanied by a Grilled Portobello and Fontina Cheese Flatbread that was absolutely to die for ($11.95). The layers of flavor to the flatbread have to be experienced to be appreciated, but there were huge hunks of roasted garlic, leeks, thyme, and truffle oil. MMmmmmmmm!
Our server, J.R., was endearing, patient, helpful, and knowledgeable. He kept us entertained (without being bothersome) with stories of his daughter's love for one of our main courses, the Chicken Meatballs and Spaghetti, made with hand-ground thigh and breast meat. This meal was unique, but good, and I enjoyed the leftovers the next day.
The crowd pleaser, in my mind, was the 14 ounce River Valley Center Cut Pork Chop, served with rustic cut beans and carrots (I love me some fresh veggies!), and chunky apple sauce. The chop was nearly 2 inches thick in the middle and cooked, bone-in, to perfection (kudos to Executive Chef John Belleme!) for $25.95.
Henry's is located in the Shoppes at Addison Place on Jog Road in Delray Beach, right across from the entrance to the Morikami Museum, at . (561) 638-1949. Reservations are strongly suggested as this place does a nice business just about every night of the week!
Decide before you drive. Email if you want to discuss having your bar or dining establishment featured next, and follow us on Twitter by clicking . Thanks for reading!
Related posts:
Short URL: https://browardnetonline.com/?p=8711
Posted by
AdamF
on Jul 8 2010. Filed under
Broward County
,
Local news
,
Palm Beach
,
Taste Broward
. You can follow any responses to this entry through the RSS 2.0. You can leave a response or trackback to this entry