2011 Florida Renewal Energy Tour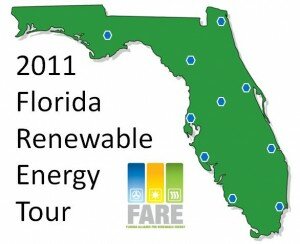 Please join Florida Alliance for Renewable Energy, FARE on Friday, February 11 for the 2011 Florida Renewal Energy Tour. The tour is set for the morning, the afternoon agenda will include a Town Hall discussion at FIU.
This is part of a ten city tour of Florida. It will feature discussion of renewable energy legislation to be introduced in the 2011 Legislative Session. The tour will also feature industry & policy experts and state & local elected officials including a Town Hall format with a discussion on job creation and local economic growth through renewable energy development, and a question and answers session from industry experts and State legislators. This is as close as it will get to Fort Lauderdale, so please make sure that you attend!
Discussion topics will include:
Local job creation
Local economic growth
Free market forces
Energy security
Pending legislation
Innovations in industry
Municipal approach to renewables
Trickledown economics of renewable energy
Renewable energy finance
Who will be attending the tour:
Local businesses
City, county, and municipal employees and local elected officials
City and local sustainability and green commissions
Regional planning councils and members
Renewable energy supporters and advocates
Why you should be part of the tour:
Be part of shaping the renewable energy and energy efficiency future of Florida
Learn about pending legislation
Interact with your elected officials
Network with people from all phases and stages of involvement of renewable energy and energy efficiency projects
Encourage and support a free market for renewable  energy in Florida
Agenda:
Friday, February 11th, 2011
9:00 am – 10:00 Site visit –Village of Palmetto Bay City Hall LEED certified building including rooftop solar array – 9705 East Hibiscus Street, Palmetto Bay, FL 33157
10:15 am – 11:00 Site visit – residential solar array, 8264 SW 178 Terrace, Palmetto Bay, FL 33157
11:30 am – 12:15 Site visit – residential solar array, 8265 SW 93rd Street, Miami, FL 33156
12:30 pm – 1:30 Lunch/Networking – Chamber South office, 6410 SW 80th Street, South Miami, FL 33143
1:30 – 2:00 Town hall registration
2:00 pm – 4:00 Town Hall meeting – The Global Energy Security Forum will be hosted by Florida International University, Ocean Auditorium, College of Business Complex 11200 S.W. 8th Street, Miami, FL 33199
2:00 – 2:15 Welcome: Dr. Edward Glab and Dr. George Philippidis, Global Energy Security Forum, FIU
2:15 – 2:30 Presentation: "Job creation and local economic growth through renewable energy" – Mike Antheil, Executive Director – FARE
2:30 – 2:45 Legislative outlook – Government Affairs Expert & FARE Lobbyist Richard Pinsky
2:45 – 3:30 Panel Discussion
ü  Senator Anitere Flores, District 38
ü  Senator Gwen Margolis, District 35
ü  Barry Johnson, President, Greater Miami Chamber of Commerce
· 3:30 – 4:00 Q & A
· Reception to follow
FUI Site Map and Parking Directions
The event will be held at the Ocean Auditorium in the CBC (College of Business Complex) at FIU.
Parking spaces are reserved in the PGP (Panther Parking Garage) located west/northwest of and very close to the CBC building. Please use FUI Site Map link above for detail campus map. The CBC building and PGP garage can be found in the upper left quadrant of the map.
Please enter the campus through the 112th Avenue entrance off SW 8th Street. Those coming from the north may wish to take the Florida Turnpike to the SW 8th Street exit and then head east. The campus will be on the right hand side.
Once on 112th Avenue entrance, take a right turn at the stop sign and follow the road to the PGP garage, which is located across from the US Century Bank Arena of FIU.  Follow signs to parking spots. An attendant will be there starting 1:00 pm to help out.
The Ocean Auditorium is located on the ground floor of the building.
The event is free; please register for both site visits and the afternoon town hall discussion.
1. FIU Campus Map – click here
2. Final tour agenda – click here
3. Driving directions – click here
4. Please RSVP for site visits here.
5. Register for the town hall discussion here.
If you have any questions, contact:
Mike Antheil
Florida Alliance for Renewable Energy (FARE)
561.703.4345
, www.fareenergy.org

As an architectural consultant, LEED AP, LEED certification reviewer, real estate broker and AIA associate, Valerie J. Amor is dynamically engaged in sustainability and issues regarding the built environment. Actively participating in several local, county and national organizations and committees focused on sustainability issues, she is also owner/principal of Drawing Conclusions and founder/president of Green Collar Connection, companies engaged in sustainable design, real estate development, green job training and research. Knowledgeable and well connected she brings you timely and thoughtful articles. Reach her at .

Related posts:
Short URL: https://browardnetonline.com/?p=11187
Posted by
Valerie J. Amor
on Feb 10 2011. Filed under
Broward County
,
Emerging Green
,
Fort Lauderdale
,
Local news
,
Palm Beach
. You can follow any responses to this entry through the RSS 2.0. You can leave a response or trackback to this entry