Storm upgraded to Tropical Storm Nicole; warnings gone in Florida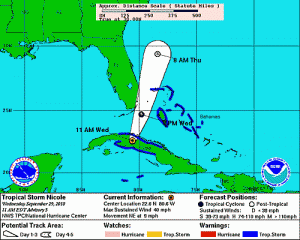 From National Oceanic and Atmospheric Administration:
BANDS OF THUNDERSTORMS HAVE FORMED CLOSER TO THE CENTER OVER THE
SOUTHEASTERN PORTION OF THE CIRCULATION SINCE YESTERDAY.
ALSO…THERE HAVE BEEN A FEW SHIP…BUOY…AND LAND OBSERVATIONS OF
SUSTAINED TROPICAL STORM FORCE WINDS.  BASED ON THE IMPROVED
ORGANIZATION AND THE SURFACE DATA…THE SYSTEM IS UPGRADED TO
TROPICAL STORM NICOLE.
SURFACE OBSERVATIONS FROM CUBA AND VISIBLE SATELLITE IMAGES INDICATE
THAT THE CENTER OF NICOLE WAS LOCATED ALONG THE SOUTH-CENTRAL COAST
OF CUBA AROUND 1200 UTC THIS MORNING.  SURFACE DATA SHOW THAT THE
CYCLONE CORE CONSISTS OF A LARGE AREA OF LIGHT WINDS…WITH THE
STRONGEST WINDS STILL OCCURRING WELL TO THE SOUTH AND SOUTHEAST OF
THE CENTER.  THE OBSERVATIONS ALSO INDICATE THAT A SURFACE TROUGH
EXTENDS NORTHWARD ALONG THE SOUTHEAST COAST OF FLORIDA.  THE GLOBAL
MODELS SUGGEST THAT EXTRATROPICAL DEVELOPMENT WILL OCCUR ALONG THE
NORTHERN EXTENT OF THE TROUGH OFF THE EAST COAST OF CENTRAL OR
NORTH FLORIDA LATER TODAY.  THE EXTRATROPICAL LOW IS THEN FORECAST
TO MOVE NORTHWARD ALONG THE U.S. EAST COAST DURING THE NEXT COUPLE
OF DAYS.  NICOLE IS FORECAST TO MOVE NORTHEASTWARD ACROSS CUBA AND
THE NORTHWESTERN BAHAMAS…AND IS LIKELY TO DISSIPATE AS THE
EXTRATROPICAL DEVELOPMENT BECOMES THE DOMINANT EVENT.  THE NEW NHC
TRACK IS A LITTLE EAST OF THE PREVIOUS ADVISORY AND SHOWS
DISSIPATION OF THE TROPICAL CYCLONE MUCH SOONER THAN PREVIOUSLY
PREDICTED.  GIVEN THE COMPLEXITY OF THE SCENARIO…HOWEVER…
UNCERTAINTY IN THIS FORECAST IS HIGHER THAN NORMAL.
BASED ON THE UPDATED FORECAST TRACK…ALL WATCHES AND WARNINGS FOR
FLORIDA HAVE BEEN DISCONTINUED.  THE PRIMARY THREAT FROM NICOLE IS
HEAVY RAINFALL…ESPECIALLY OVER MOUNTAINOUS AREAS OF JAMAICA AND
CUBA.
Related posts:
Short URL: https://browardnetonline.com/?p=9923
Posted by
Andrea Freygang
on Sep 29 2010. Filed under
Broward County
,
Hurricane season
. You can follow any responses to this entry through the RSS 2.0. You can leave a response or trackback to this entry