New Yard House to open its doors this weekend in Hallandale Beach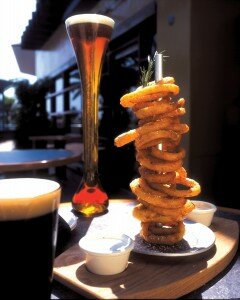 The staff has been hired, the taps are in place, and the final touches are being applied as Yard House, the award-winning restaurant with locations in Palm Beach Gardens and Coral Gables, prepares to open its doors at The Village at Gulfstream Park in Hallandale Beach on September 26.
The restaurant will celebrate is pending opening with a few invitation-only events including a 9-1-1 For Kids gathering on Friday, September 24, to honor the region's young heroes, as well as dispatchers, who have helped save lives as a result of knowing how to use the 9-1-1 emergency system correctly.  Underprivileged children from a local school will be on hand to learn the correct way to use the emergency system in a crisis situation.  Local dignitaries, police officers, and firefighters are also expected to attend and a luncheon will take place following the presentation.
A whirlwind of pre-opening parties will also take place on Friday and Saturday evenings, September 24 and 25, where invited guests can preview the restaurant, sample items from the menu created by Executive Chef Carlito Jocson, and taste some of the beers on tap as well as sip signature house martinis, well drinks, and wines by the glass.
Then on Sunday, September 26 at 11am Yard House will open its doors to the public for lunch, dinner and late-night dining.  The restaurant's concept has revolutionized the restaurant industry with its simple concept of great food, classic rock, and the world's largest selection of draft beer.  Residents and visitors to Hallandale Beach will be treated to a menu of American fusion fair, 130 taps of beer, and a playlist of music that ranges from classic to contemporary rock.  The restaurant, which caters to an eclectic mix of guests, from professionals and singles to families with small children, offers a prix-fixe children's menu, weekday and late-night happy hours featuring select half-price, full portion appetizers, daily late-night dining, and take-out party platters for small or large gatherings.  Executive Chef Carlito Jocson takes American classics and infuses them with Asian influences.  More 100 items, including appetizers, salads, sandwiches, rice and pasta dishes, as well as steak and seafood, grace the menu.  Bite-size desserts, such as chocolate soufflé and crème brulee, are also available.
Signature dishes include a California Roll, Sashimi, succulent steaks and ribs, and much more.  A prix fixe children's menu, printed on a 12-page activity book, features a selection of items found on the regular menu only served in age-appropriate portions and accompanied with an assortment of side dishes, a mix and match flavored beverage, and fresh fruit dessert bar.  A new meat-free menu using gardein™, a brand of healthy plant-based foods with the taste and texture of premium lean meat, is also available.
Perhaps the pulse of the operations is the glass-enclosed keg room, which houses as much as 300 kegs and some 3,000 gallons of beer at any given time.  An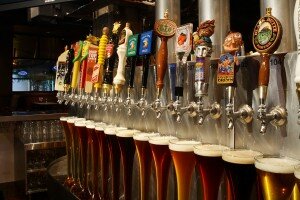 intricate network of more than five miles of tubing stretches from the keg room to the signature island bar and its fleet of taps.  In addition, an assembly of individual pumps circulating as much as 1,000 gallons of coolant every hour keeps the liquid consistently fresh and perfectly chilled at all times.
"We're excited to continue growing in southern Florida," says Harald Herrmann, partner and CEO of the company. "Our locations in Palm Beach Gardens and Coral Gables do a phenomenal business, and we owe our success to our loyal guests.  Our aim in Hallandale Beach is to provide the community with a fun, quality dining experience."
Yard House at The Village at Gulfstream Park will span nearly 11,500 square feet with an indoor/outdoor guest capacity of 546 plus 130 taps of beer encircling the island bar.  The restaurant's design of warm woods, coupled with stainless steel accents and a collection of original, abstract artwork, is aesthetically pleasing.  Sports fans can catch the latest game on one of the many flat screens strategically positioned throughout the restaurant, while enjoying the strains of the restaurant's vast music library, which is played on a state-of-the-art sound system and features more than 7,000 titles of tunes spanning five decades, from the 1960s to the present.
While known for its half-yard and pints of beer, Yard House is equally popular with martini and wine aficionados.  A full bar of libations is also available.  Weekday happy hour takes place from 3-6pm and includes a variety of half-price, full portion appetizers, including a variety of individual gourmet pizzas.  The ritual is repeated Sunday through Wednesday from 10pm to closing during late-night happy hour.
Both Nation's Restaurant News and Cheers Magazine have lauded Yard House, which first opened in Long Beach, California, in December 1996, as having the "Best Beer List".  The company's long list of accolades includes a high ranking among the nation's Top 100 Independent Grossing Restaurants by Restaurants & Institutions Magazine, as well as being recognized as a Concept of Tomorrow by Restaurant Hospitaliy, a trade magazine which also named the Yard House among the nation's 50 fastest Growing Full Service Chains.  The Los Angeles Business Journal has also ranked Yard House as the third highest grossing independent restaurant in Los Angeles County, which is a major accomplishment in a town known for its many restaurant casualties.  Yard House has also been voted consecutively as The Best Place to Meet People in Orange County, California.
Yard House also has locations throughout Southern California; Greater Phoenix, Waikiki Beach; Las Vegas; Kansas City; suburban Denver, Boston and Chicago;  and San Antonio and Houston, Texas.  Yard House will open next year along Santana Row in San Jose, California, as well as downtown Denver at the 16th Street Mall, downtown Boston, Westchester County, about 10 miles from New York City, and Fountains at Roseville, California, just 20 minutes from Sacramento.
Yard House is located at The Village at Gulfstream Park in Hallandale Beach at 501 South Federal Highway adjacent to the Gulfstream Park Racing and Casino.  For more information, visit online at  www.yardhouse.com.
Related posts:
Hallandale, Dania seeking emergency status, FEMA funds for flooding
Anti-crime walk Tuesday in Hallandale
Short URL: https://browardnetonline.com/?p=9888
Posted by
Andrea Freygang
on Sep 23 2010. Filed under
Broward County
,
Hallandale
,
Local news
,
Taste Broward
. You can follow any responses to this entry through the RSS 2.0. You can leave a response or trackback to this entry