Broward County Health Department honored as "Public Health Ready"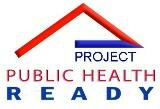 Protecting the public from infectious diseases, bioterrorism, natural disasters and other public health threats is a major role of health departments nationwide and one they strive to achieve each and every day.  The Broward County Health Department takes this role very seriously and proudly announces that they have been recognized by the National Association of County and City Health Officials (NACCHO) for their ability to respond to public health emergencies.
Broward County Health Department met the comprehensive preparedness benchmarks required by Project Public Health Ready (PPHR), a unique partnership between NACCHO and Centers for Disease Control and Prevention (CDC).
"We are proud to have been recognized by Project Public Health Ready for our high level of preparedness," said Paula Thaqi, M.D., MPH, Director of Broward County Health Department. "This recognition reflects tremendous effort, dedication, creativity, and cooperation on the part of our entire team of experts.  We will continue to exercise with our partners and expand our emergency preparedness strategies to insure that Broward County Health Department remains a strong part of our local response network."
"NACCHO commends Broward County Health Department for being a model of public health emergency preparedness," said Robert Pestronk, Executive Director of NACCHO. "The public health system is making great strides thanks to the good work of leaders in local public health preparedness such as Broward County Health Department."
Local health departments recognized by PPHR undergo a thorough evaluation process by peer review. PPHR required Broward County Health Department to meet expectations in public health preparedness in three key areas: preparedness planning; workforce competency; and demonstration of all-hazards readiness through exercises or a response to a real event. The recognition confirms that Broward County Health Department has an emergency response plan in place, the plan is connected to other jurisdictional emergency response plans, agency staff members are trained, and the plan is exercised and used during public health emergencies.
For more information on all Project Public Health Ready recognized sites and project tools and resources, visit http://www.naccho.org/topics/emergency/pphr.cfm.
For more information on Broward County Health Department programs and services, visit www.browardchd.org.
Related posts:
Short URL: https://browardnetonline.com/?p=9815
Posted by
Andrea Freygang
on Sep 20 2010. Filed under
Broward County
,
Families
,
Fort Lauderdale
,
Health
,
Latest news
,
Local news
. You can follow any responses to this entry through the RSS 2.0. You can leave a response or trackback to this entry