Oakland Park Main Street and the City of Oakland Park Present Annual 'Oktoberfest'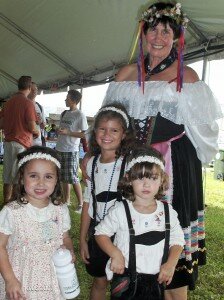 Oktoberfest aficionados and anyone else looking to celebrate the popular Bavarian tradition need to travel no further than Jaco Pastorius Park for Oakland Park Main Street's 7th Annual Oktoberfest Celebration on September 30 and October 1.
Oakland Park's annual Oktoberfest is not only the largest in Broward or Dade, but it has become one of the most popular in Florida, according to Siegi Constantine, Executive Director for Oakland Park Main Street.
"Everything about our event is authentic – from the food and the beer to the bands performing traditional Oktoberfest party music," said Constantine.  "We have increased our entertainment budget to book several of the best authentic Oktoberfest bands in Florida."
The Oakland Park Oktoberfest hours are Friday, September 30 from 5 to 11 p.m. and Saturday, October 1 from 1 to 11 p.m. at the "Bavarian Village" set up in downtown Jaco Pastorius Park, 4000 North Dixie Highway (just north of NE 38th Street), where the official "keg tapping" will commence the celebration.
Constantine has been working to ensure each detail of the event is carried out in true Oktoberfest tradition.  Upwards of 10,000 people are expected to attend so an adequate supply of authentic German food and beer will be available, as well as plenty of dance space under the large tents.
Hans Huber, owner of Fort Lauderdale's award-winning Ambry Restaurant, will operate the Bavarian-style "Biergarten" at the Oktoberfest offering a selection of popular German favorites such as bratwurst, knockwurst, spicy currywurst, chicken schnitzel, goulash soup, sauerkraut and German potato salad, as well as freshly baked pretzels, "Brotchen" and apple strudel.  In addition to soft drinks, a selection of German wines and authentic German-brewed Tucher Oktoberfest beers will be available for purchase by adults 21 and over.
The large tents will be erected to replicate the authentic atmosphere of a Bavarian village celebration, including a stage and a dance floor.  Performances by the "Edelweiss Schuhplattlers" (children's dance troupe) and the "Original Auerhahn Schuhplattler Dancers" (adults) will delight the guests. "Oktoberfest is truly meant to be a celebration for all ages and we want to encourage a lot of singing and dancing," said the City's Special Event Coordinator Eric Waters.  "We will also have fun Oktoberfest games and contests such as our popular 'Dachshund Dash,' beer stein races and apple strudel-eating contest."
The musicians scheduled to fill the air with oompah and polka dance melodies until the 11 p.m. closing each evening include the popular Oktoberfest bands "Euro Express" and the "Swinging Bavarians."
Constantine reminds Oktoberfest attendees that Sal's Towing of Oakland Park has offered to provide free transportation home for anyone who may not be safe to drive, and the nearby Days Inn Hotel at Oakland Park Boulevard/I-95 will offer discounted Oktoberfest rates for the weekend.
Long-time Presenting Sponsor Lipton Toyota/Scion is joined by sponsors Agro Construction, All Quality Properties, the Ambry Restaurant, Anything on Wheels, Around Town Newspaper, China Replacements LTD, City of Oakland Park, Comcast, Holy Cross Hospital, Goodwill Industries of South Florida, Mass Mutual, Nova Southeastern University, Pelican Newspaper, Sal's Towing, and S.Mark Graphics.
For sponsorships, vendor opportunities, and other information, please call Constantine at or visit www.oaklandparkmainstreet.com which includes a link to the event's Facebook page. There will be a $5 donation for adult admission while children 12 and under are admitted free.
"Oakland Park bids you 'Guten Tag' (Good Day) and brings a little bit of German 'Gemuetlichkeit' to South Florida which translates to days of good spirits, good times, laughter and goodwill," Constantine said. "We are proud of what is taking place in downtown Oakland Park and encourage people to attend this fun-filled event."
Charitable Partner for Oktoberfest:
Oakland Park Main Street is proud to select NORTHEAST HIGH SCHOOL again as this year's recipient of a monetary contribution from Oktoberfest proceeds. With its donation to the school's Jaco Pastorius scholarship and music fund, Main Street honors its long-standing and rewarding relationship with Northeast High School.
Related posts:
Short URL: https://browardnetonline.com/?p=11355
Posted by
Andrea Freygang
on Sep 21 2011. Filed under
Broward County
. You can follow any responses to this entry through the RSS 2.0. You can leave a response or trackback to this entry