1st Annual eight day Halloween Fest at Snyder Park in Ft Lauderdale
Click here to enter our Halloween Costume Contest. Post your best pics of Halloweens past to win a four-pack of to the Halloween Festival at Snyder Park.
During a Severe Tropical Storm, a top secret cargo plane laden with barrels of experimental toxic chemicals overshot the Fort Lauderdale runway and disintegrated into the nearby woods of Snyder Park. TOP Scientists have been dispatched to assess and "contain" potential hazards to the area and to, "quarantine" the local population.
YOU are the local population…
Some of YOU have already begun to… Change…
YOU will be monitored for the effects of potential contamination as you try to evacuate the area. Into the glowing green fog of Snyder Hollow is the only way out… a maze of mayhem and terror unfolds as you encounter  bone chilling sounds, strange phenomena and the forests new "inhabitants"… Are they, human? See for yourself, if you dare…
The evacuation route ends in a terrifying "Contamination Evaluation Area," but you're not alone. The newly mutated residents of Snyder Hollow have only one thing on their mind…Hunger. You must escape from the horrific creatures and avoid becoming one of them yourself if you expect to continue on to the rest of the First Annual Halloween Festival at Snyder Park in Fort Lauderdale.
Eight Spooktacular nights of Halloween fun for the Entire Family
Produced by a team with years in lighting, special effects and staging experience, this first annual fest is being produced by Patrick Brandano of Brandano Displays, Kevin Black of Kevin Black Productions and JD of MPS Light and Sound. Eight nights of entertainment will include stage shows, music, the spooky trail (trail open to ages 13 and over, under 13 with an adult), costumes, plenty of kids activities and more. See below for list of entertainment during the eight day event on 50 acres.
OCTOBER 21,22,23,24
OCTOBER 28,29,30,31
7-11 p.m. every night.
3299 SW 4th AVE   Ft. Lauderdale , FL.
www.halloweenatsnyderpark.com or connect on .
MONSTERS BALL 2010 MAIN STAGE
MONSTERS BALL 2010 ROCK OPERA
Monsters Ball 2010, a terrifyingly campy musical production, will be performed at our Outdoor Main Stage. Bring a blanket and "camp" out under the stars for an evening with Florida 's most talented professional singers and dancers. See the MONSTER'S BALL 2010 come to life as a unique Rock Opera of Music & Dance. A journey through the best of the 70's, 80's, 90's and Today.
A 30-minute show, performed twice a night, the Characters include Dracula, Frankenstein, Elvira, The Werewolf, The Mummy, She-Devil and more with featured hits like "SuperFreak", "Hot Stuff", "Womanizer", "Hungry Like The Wolf", "Let's Get This Party Started", "Shot Through The Heart", "Tik Tok", and many more. Featuring spectacular lighting and effects, a mesmerizing Aerial Contortion Performance by Dracula's prey, an appearance by "Lady Gaga", and a truly "SHOCKING" ending!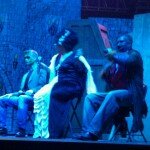 Monsters Ball Cast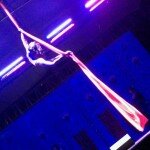 Aerial from MB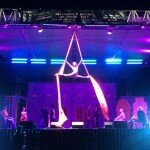 Aerial 2 from MB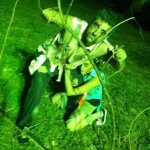 The mutants are alive!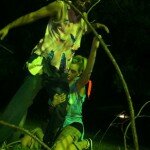 Mutants!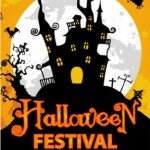 snyderhalloweenimage
First annual Halloween Festival at Snyder Park in Fort Lauderdale
Monsters Ball 2010 Main Stage
When the rock opera is offstage, the Monsters Ball Main Stage will feature MATT GUITAR MURPHY & THE NOUVEAUX HONKIES, RUDY MUSIC and many more of the best Live Blues, Rock, Reggae, Dub, and Funk, bands from 7:00 pm to 11:00 pm. Check www.halloweenatsnyderpark.com for each evening's performance line up.
SHORT FILMS
We searched long and hard to find the campiest of B Horror clips to keep the spirit alive through intermissions.
Other information
If all of this rockin' and rollin' is making your stomach growl…head over to the concession stands where you can grab beer, wine, festival style food, snacks, and non-alcoholic beverages. (so you don't have to eat your date, or your kids…) Even some Cotton Candy or a Caramel Apple, we've got it all!  ID is required for all alcohol purchases.
Lovingly conceived produced and presented for the community. You are encouraged to enter our Halloweenisphere in your best costume. Costume Contests for Best Dressed Band and Guests alike will result in "Fabulous" prizes.
Tickets and Info:  
$20/advance;  $25/Gate.  $5 to park.
Ticket Price includes Admission to Entire Park   (scroll down to see admission prices and hours for the under age 12 section) Adult Admission allows unlimited trips through the trail.
KIDS
Don't know where to take the kids? Halloween at Snyder Park has a three-acre Fantasy Fun Zone specifically for the little Halloweeners. Fanciful, enchanting, interactive and appropriate for kids of all ages, children will go gaga over our costumed characters, games, lights, treats and surprises. Visit the Sparkling Candy Castle inside the Fantasy Fun Zone, a SAFE place for families to get into the Halloween spirit. Greeted by our beautiful Princess Witch and a selection of her Super Hero friends, families are encouraged to participate in our pee-wee Costume & Dance contests, Trick or Treating at the Candy Castle, Face Painting and Storytelling. Other fun features along the sparkling light trail will include Bounce Houses, Games, Cotton Candy, Caramel Apples and a trail of animated Sparkling shapes of wacky ghosts, goblins, spiders, cats, witches with brew and more. Children can make their way through the pumpkin maze, and even paint their own pumpkins. Costumed characters will entertain and take photos. Food and Beverages will be available for purchase.
Hours of Operation (kids-section only)
6:00 pm – 9:00 pm on Thursdays and Fridays,
4:00 pm – 9:00 pm on Saturdays and Sundays.
Admission   $7.00 ages 2 – 12,   $10.00 ages 13 and over.
Ticket Price includes admission to Fantasy Fun Zone ONLY
On-Site Ticket Upgrades for Snyder Hollow Trail and Mainstage:  $15
Under 2 are free.    $5.00 to park
Please Call for Group Pricing.
Related posts:
Short URL: https://browardnetonline.com/?p=10027
Posted by
Andrea Freygang
on Oct 11 2010. Filed under
Broward County
,
Culture
,
Events
,
Families
,
Fort Lauderdale
,
Holiday
,
Latest news
,
Local news
,
Music
. You can follow any responses to this entry through the RSS 2.0. You can leave a response or trackback to this entry