Go Green Program saves $399,400 for Broward County schools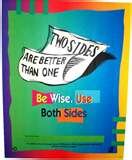 Forty-five Broward County District Schools reported a total savings of over $399,400 through the Go Green Program for output reduction.
The Education Technology Services Department's Go Green Program for Output Reduction, first piloted in 2008. County employees attended the first Go Green Workshop on October 28, 2009. The Broward County Environmental Protection & Growth Management Department along with the Waste & Recycling Division hosted a Go Green County Employee Workshop at Governmental Center West for the employees who provided positive feedback and ways to make improvements. The workshop will be offered again focusing on the County's Go Green initiatives. Participants will learn how to implement green initiatives both in the home and the workplace. This workshop, featuring presentations and interactive activities that will engage participants in environmental topics ranging from protection of important natural resources and air quality, energy conservation and mitigating the urban footprint.
The initiative encourages including all employees, students, parents and the community in their school's green initiatives to become leaders in environmental stewardship. ETS developed the program to help the District reduce the consumption of paper and supplies for printers, copiers and fax machines. In addition to being good for the environment, the program has resulted in operating budget savings for each site. The funds saved can be redirected to support other student learning projects.
During the 2009/10 school year, forty-five of the District's schools submitted Output Reduction Checklists and Budget Data Sheets in hopes of winning an eco-friendly MFP printer, the prize offered in an ETS promotional campaign. Those surveys were an indication of the success of the program. The forty-five schools reported a total savings of over $399,400.
Schools making the "Top Ten Savers" list for the school year include:
1. Indian Ridge Middle School – $43,952.18
2. Coconut Creek High School – $36,123.37
3. Miramar High School – $27,604.00
4. Tradewinds Elementary School – $26,314.00
5. Stoneman Douglas High School – $24,000.00
6. Cooper City High School – $23,405.30
7. McArthur High School – $23,282.00
8. Challenger Elementary School – $16,316.00
9. Crystal Lake Middle School – $14,699.14
10. Eagle Ridge Elementary School – $11,553.96
To learn more about  Go Green, click here.
In Miami-Dade, forty-five Miami-Dade and three Broward  County elementary, middle and senior high schools were honored for their participation in the Green Schools Challenge. Because of their efforts to save energy, conserve water, recycle, and mitigate carbon emissions they saved over $435,000, conserved over a million kilowatt hours of electricity and recycled thousands of paper, plastic and aluminum, mitigating more than three and a half million pounds of carbon dioxide.
Twenty percent of the American population spends their days in school buildings. Saving the Earth won't happen in a laboratory. It will happen in a school where educators are teaching and modeling a greener way of life to students, staff and the communities.
Want a national perspective on green cultural issues? visit my National Green Culture Examiner column under Green Living.

As an architectural consultant, LEED AP, LEED certification reviewer, real estate broker and AIA associate, Valerie J. Amor is dynamically engaged in sustainability and issues regarding the built environment. Actively participating in several local, county and national organizations and committees focused on sustainability issues, she is also owner/principal of Drawing Conclusions and founder/president of Green Collar Connection, companies engaged in sustainable design, real estate development, green job training and research. Knowledgeable and well connected she brings you timely and thoughtful articles. Reach her at .

Related posts:
Broward County Chip-A-Tree program saves more than a hundred tons from going to landfills
Short URL: https://browardnetonline.com/?p=9619
Posted by
Valerie J. Amor
on Sep 9 2010. Filed under
Broward County
,
Emerging Green
,
Local news
. You can follow any responses to this entry through the RSS 2.0. You can leave a response or trackback to this entry