FLIFF unveiled
By Rachel Galvin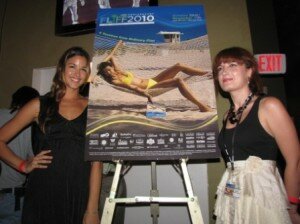 It's time again for the Ft. Lauderdale International Film Festival. In its 25th year, this festival continues to bring in top notch films and celebrities. Film stars ranging from Judd Nelson ("St. Elmo's Fire," "Breakfast Club"), Michael Murphy ("Manhattan," "MASH") and director/ actor Ed Burns ("Brothers McMullan," "Sidewalks of New York") to legendary actress Claire Bloom ("Limelight," with Charlie Chaplin, "Haunting") and 14-year-old Star on the Horizon Jimmy Bennett ("Trucker," "Bones," "Star Trek") are slated to make an appearance.
Since it has reached such a milestone, this year is sure to be bigger and better than ever, according to Gregory von Hausch, president and CEO of the festival.
"We will have more celebrities than ever," he said. "We have some terrific films."
In fact, it is so big, that is expanded beyond the festival itself, which runs Oct. 22 – Nov. 11. There are pre-festival events starting Sept. 27. This includes shorts and documentaries that were unable to fit into the fest due to time constraints and FLIFF Rewind. A film from each FLIFF going backward from 2009 to 1986 will be shown.
The other change this year is that the opening night film "Nice Guy Johnny," directed by Ed Burns, will be shown at Bailey Hall at BCC's campus rather than at Nova at the Miniaci Theater. The after-film gala will still be at the Signature Grand and the rest of the films will be back at home base – Cinema Paradiso. There will be something for everyone, including films for families, free senior matinees and outdoor events … and don't forget the parties!
The new poster was unveiled on Sept. 14 to a large crowd that had gathered, despite the rain, at Himmarshee Bar & Grille. Designed by Peter Langone, the poster features a girl, a hammock and Ft. Lauderdale's pristine beaches, as well as an invitation to take "a vacation from the ordinary." The poster features Lauren Beniot, of Las Olas Models. The design was created by Madalina Iordache-Levay of Bright Pink Studio. The overall theme goes hand in hand with the commercial, also directed by Langone, the internationally-known photog who continues to be involved with the creation of the poster as well as celebrity photography year after year.
The film "Endure," starting Judd Nelson is the Centerpiece film and the festival closes with "Casino Jack" starring Kevin Spacey and Jon Lovitz. For more information about the festival, keep checking back at www.fliff.com. The schedule will be up soon.
Related posts:
Short URL: https://browardnetonline.com/?p=9778
Posted by
Andrea Freygang
on Sep 17 2010. Filed under
Broward County
,
Culture
,
Events
,
Fort Lauderdale
,
Local news
,
Theater
. You can follow any responses to this entry through the RSS 2.0. You can leave a response or trackback to this entry