Cardinal Gibbons High School Celebrates 50th Anniversary In 2010-2011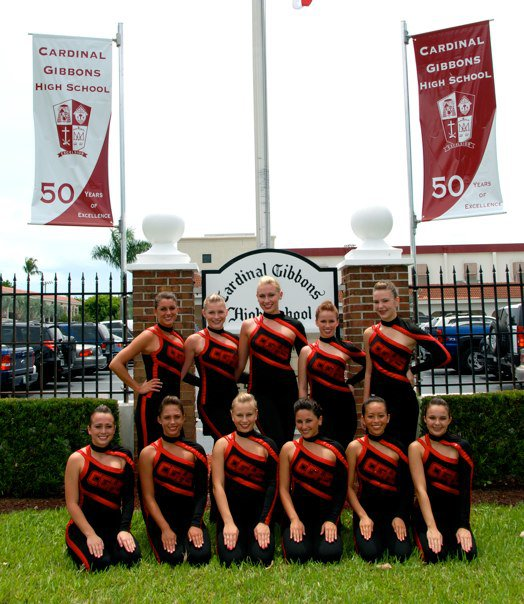 In 2010-2011, Cardinal Gibbons High School (CGHS) is celebrating a major milestone: its 50-year anniversary. The Roman Catholic High School, established on Sept. 5, 1961, has continued to grow and expand not only its facilities, but also its academic, extra-curricular, and community service programs. More than 11,374 students have graduated from CGHS since its inception.
CGHS is commemorating the anniversary with a nostalgic, fun-filled grand celebration event on Oct. 2, 2010 at the Cardinal Gibbons Campus, 2900 NE 47 Street, Ft. Lauderdale, FL 33308, from 7-10 p.m. At the dressy casual event, guests will enjoy historical highlights of the past 50 years at CGHS, heavy hors d'oeuvres provided by Hugh's Culinary, music, a cash bar, campus tours, and much more. The cost per person is $40. The RSVP deadline is Sept. 20. For additional information about the event or to RSVP, call (ext. 115, or email .
In 1961, a total of 176 students, all freshmen and sophomores, attended CGHS. The 11th and 12th grades were added soon after. In 1972, the school became co-educational. Today, approximately 1,100 students attend CGHS.
Fifty years ago the sand-strewn campus was home to two partially-completed buildings. CGHS's continual expansion plan has led to the present 18-acre campus situated along the Intracoastal Waterway, with 10 buildings, including a 1200-seat air conditioned gym, cafeteria, and new classrooms: in addition to football and baseball fields, a quarter-mile track, and six tennis courts. There are 48 classrooms equipped with networked computers, a media center, computer lab, four state-of-the-art science labs, a music room, art and ceramic room, and a chapel that seats 300.
Another impressive area of evolvement within the school has been its unique combination of college-preparatory curriculum, extra-curricular programs and community service. Twelve academic departments offer more than 100 courses. CGHS offers 19 Advanced Placement courses, and 33 honors classes in all core academic areas. Thirteen Dual Enrollment courses are available through Saint Thomas University. The school offers 35 sport teams for boys and girls, and 40 activities and clubs. CGHS students perform more than 25,000 community service hours each year, and participate in the school's many outreach activities.
"Over the past 50 years, CGHS has continued to adapt to meet the needs of our community, and to prepare our students to strive to achieve their best, whether it be academically, socially, athletically, spiritually, etc.," said Principal Paul Ott. "With a rate of 99 percent of our students going on to attend college, and 73 percent or more of our seniors qualifying for the Florida Bright Future Scholarship, I feel that we have done an excellent job preparing our students to be successful, upstanding and giving individuals in college and throughout their lives."
CGHS serves the Catholic families of the area as well as other families who wish to experience a Catholic education. It acts under the direction of the Archdiocese of Miami, and is accredited by the Southern Association of Colleges and Schools (SACS CASI).
ABOUT CARDINAL GIBBONS HIGH SCHOOL
Cardinal Gibbons is a Roman Catholic High School acting under the Archdiocese of Miami. The school is dedicated to preparing each student to meet the challenges of an ever-changing world. Its unique combination of college-preparatory curriculum, extra-curricular programs and community service promotes the academic, moral, social, athletic, artistic and spiritual development of the student. Cardinal Gibbons High School is located at 2900 NE 47 Street, Ft. Lauderdale, FL 33308. Visit www.cghsfl.org or call (for more information.
Related posts:
Short URL: https://browardnetonline.com/?p=9827
Posted by
Andrea Freygang
on Sep 20 2010. Filed under
Broward County
,
Fort Lauderdale
,
Local news
,
Schools
. You can follow any responses to this entry through the RSS 2.0. You can leave a response or trackback to this entry