Officials celebrate Broward College Public Safety Institute ground-breaking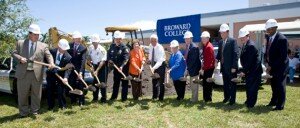 Continuing his focus on strengthening Florida's economy, Governor Charlie Crist praised the progress of the Broward College Public Safety Institute during a recent groundbreaking dedication ceremony in Broward County on Aug. 18. The project, which has been in progress for 10 years, is expected to create more than 200 constructions jobs.
"In addition to increasing higher education opportunities in South Florida, this project is helping put 200 Floridians to work," said Governor Crist. "The safety and well-being of Floridians is always our top priority, and I am confident the future graduates of this institute will be the next great generation of law enforcement officers and first responders."
Since 2000, the Broward College boards of trustees and stakeholders have envisioned an institute that caters to careers in public safety.  The institute will offer a myriad of career paths including police officer, deputy sheriff, corrections officer, secret service agent, and 911 dispatcher.
Earlier this year, Governor Crist and Florida Department of Law Enforcement Commissioner Gerald Bailey announced Florida's overall index crime rate reached a 39-year low, declining by 6.4 percent in 2009, compared to 2008. The number of violent crimes (murder, forcible sex offenses, robbery and aggravated assault) committed in Florida dropped 10 percent last year; the number of non-violent crimes (burglary, larceny, and motor vehicle theft) decreased 6.2 percent.
The Governor joined Broward College leadership, Senator Nan Rich, Representatives Ari Porth and Hazelle Rogers, and Broward County Sheriff Al Lamberti for the ceremony.
Related posts:
Short URL: https://browardnetonline.com/?p=9467
Posted by
Andrea Freygang
on Aug 29 2010. Filed under
Broward County
,
College
,
Davie
,
Schools
. You can follow any responses to this entry through the RSS 2.0. You can leave a response or trackback to this entry