FDOT seeks public input for South Florida East Coast Corridor Study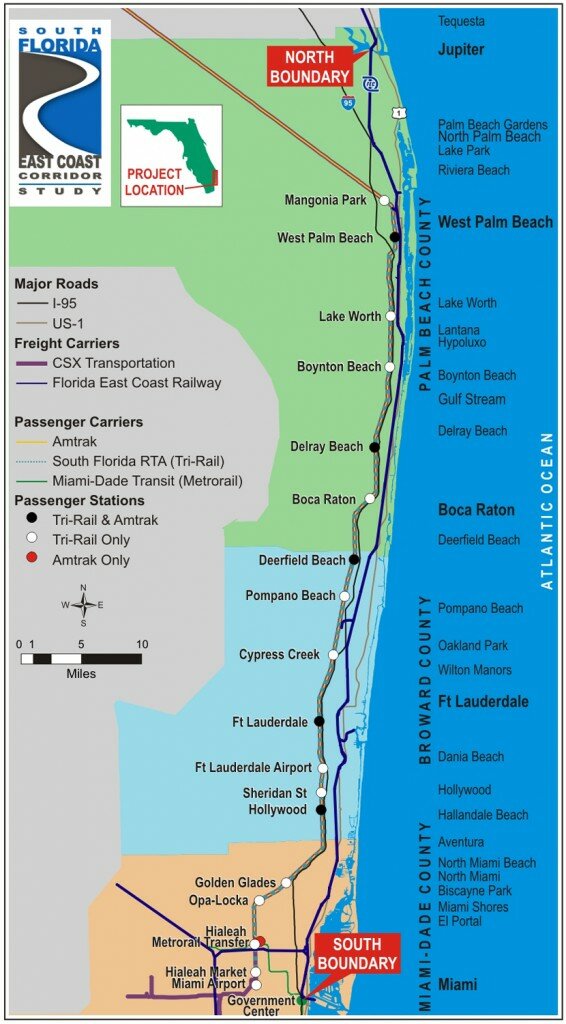 Phase 2 of the South Florida East Coast Corridor Study (SFECC Study) is almost complete. As a part of this phase the Florida Department of Transportation (FDOT) will conduct a series of public hearings regarding proposed transit improvements along the South Florida East Coast Corridor.
The recommendations so far for the three possible technologies for the Locally Preferred Alternative (LPA) are regional bus, bus rapid transit and commuter rail. With a corridor of 85 miles that spans through Miami-Dade County, Broward County and Palm Beach County, 52 general vicinities are under consideration as future station locations. These general vicinities have been identified using as criteria:
proximity to east-west highway corridors
density of surrounding residential or commercial development
potential for park-and-ride
connectivity to other transit / future growth in the area
nearby facilities
benefits to people who are transit-dependent.
During Phase 3 these areas will be studied in detail and more specific sites will be identified in partnership with the communities.
On August 4, Oakland Park City Commissioners approved a resolution supporting the proposed passenger rail line that would traverse the Southeast Florida region along the Florida East Coast (FEC) Railway corridor. Rail station locations under consideration are in Oakland Park – Commercial Boulevard near North Dixie Highway and a downtown station between NE 38 Street and NE 34 Court.
Citizens are invited to provide their comments about the proposed technologies, route plans and station locations at the following dates and locations. All hearings will begin with a 30-minute open house where citizens can talk with study team members, followed by a formal presentation and then a public testimony period. There will be additional time to discuss the project and answer questions with study team members following the public comment period.
September 14: West Palm Beach 3:30-5:30 pm and 6-8 pm, Kravis Center for the Performing Arts, 701 Okeechobee Blvd.
September 15: North Miami Beach 6-8pm, McDonald Center, 17051 NE 19th Avenue
September 16: Boca Raton 6-8pm, Boca Raton Community Center, Royal Palm Room, 150 Crawford Blvd.
September 21: Downtown Miami 3:30-5:30 pm and 6-8pm, Miami-Dade College Wolfson Campus, James K. Batten Room #2106, 300 NE 2nd. Avenue
September 22: Fort Lauderdale 3:30-5:30pm and 6-8pm, Holiday Park – Social Center,1150 G. Harold Martin Drive
For more information:
Broward County: Communikatz, Inc.  1-800-330-7444
Miami-Dade County: Charesse Chester & Associates  305-944-7564
Palm Beach County: Clear Light Communications, Inc.  561-798-9633
An Alternative Analysis Report in hard copy is available for review from August 24-October 2, 2010 at local libraries or on the study's website, www.SFECCStudy.com.
Public comments can also be submitted by mail to:
Scott Seeburger, FDOT Project Manager, Planning & Environmental Management Office, 3400 W. Commercial Blvd., Fort Lauderdale, FL  33309
Telephone# toll-free 1-866-336-8435 ext. 4632, email
Exhibits or statements must be postmarked by October 2, 2010 to become a part of the public hearing record.
Want to be reminded why the development of mass transit is so critical? Check out this article at Smart Growth Online, "The true cost of a gallon of gas."

As an architectural consultant, LEED AP, LEED certification reviewer, real estate broker and AIA associate, Valerie J. Amor is dynamically engaged in sustainability and issues regarding the built environment. Actively participating in several local, county and national organizations and committees focused on sustainability issues, she is also owner/principal of Drawing Conclusions and founder/president of Green Collar Connection, companies engaged in sustainable design, real estate development, green job training and research. Knowledgeable and well connected she brings you timely and thoughtful articles. Reach her at .

Related posts:
FDOT studying billion dollar train project along FEC/Dixie Hwy. corridor
Short URL: https://browardnetonline.com/?p=9393
Posted by
Valerie J. Amor
on Aug 26 2010. Filed under
Broward County
,
Featured
,
Fort Lauderdale
,
Local news
,
Transportation
. You can follow any responses to this entry through the RSS 2.0. You can leave a response or trackback to this entry