Florida Gulf oil spill jobs website launched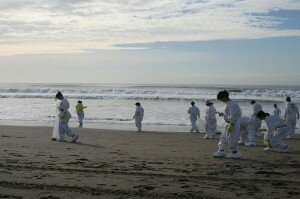 Governor Charlie Crist today unveiled Florida Gulf Recovery Jobs, a Web site that allows job seekers to locate and apply for positions created in response to the Deepwater Horizon oil spill. Florida Gulf Recovery Jobs, found at www.floridagulfrecoveryjobs.com, is a dedicated portal through Florida's official online job bank, the Employ Florida Marketplace, currently listing more than 3,500 positions related to response and recovery efforts, with additional positions posted regularly.
"Immediate access to recovery-related job openings provides Floridians the opportunity to help our state while supporting their families and communities," said Governor Crist. "Our beautiful Sunshine State remains open for business, and Florida Gulf Recovery Jobs is the latest example of our coordinated efforts to ensure preparedness and strengthen our economy."
Florida Gulf Recovery Jobs is a joint venture of the Agency for Workforce Innovation and Workforce Florida Inc., in partnership with the state's 24 Regional Workforce Boards. Designed as an online "one-stop shop" for job seekers and employers, the Web site allows job seekers to access available positions, which are verified by the local Regional Workforce Boards, as employers post them. Floridians can also call 1-877-362-5034 to learn more about available jobs related to response and recovery efforts.
"Under Governor Crist's leadership, we are pursuing all options for maximizing assistance to the people and businesses of Florida who have been affected by the oil spill in the Gulf of Mexico," said Agency for Workforce Innovation Director Cynthia R. Lorenzo.  "Florida Gulf Recovery Jobs is a great resource for employers and job seekers with the skills and desire to help minimize the spill's impact and ensure a complete recovery."
"Our top priority is getting Floridians back to work and ensuring Florida's business climate continues to flourish," said Chris Hart IV, president/CEO of Workforce Florida Inc. and interim director of the Governor's Office of Tourism, Trade and Economic Development.  "Florida Gulf Recovery Jobs is a key component of the state's response to the oil spill, providing Florida's job seekers access to a wide array of employment opportunities and its businesses with a ready and willing talent pool."
Some response and recovery jobs will require special training, for which job seekers may receive a stipend. More than 2,400 workers have already been trained and are eligible to begin filling these positions, including 302 who are already participating in Florida's recovery efforts. Information about required training is also available at www.floridagulfrecoveryjobs.com. Additionally, job seekers are encouraged to visit one of the 93 local One-Stop Career Centers for information about these and other employment opportunities in their communities. Job seekers can locate their nearest One-Stop Center by visiting www.floridajobs.org/onestop/onestopdir/index.htm.
Launched in 2005, the Employ Florida Marketplace, www.employflorida.com, connects Florida businesses and job seekers, from entry-level to executive-level talent. More than four million jobs have been listed on www.employflorida.com since the website's inception, and more than 30,000 visitors use the site daily to search for jobs, screen applicant resumes and research the latest labor market statistics.
Related posts:
Short URL: https://browardnetonline.com/?p=8571
Posted by
AdamF
on Jun 18 2010. Filed under
Broward County
,
Employment
,
Environmental
,
Fort Lauderdale
,
Local news
,
Oil
,
Tallahassee
. You can follow any responses to this entry through the RSS 2.0. You can leave a response or trackback to this entry