Dania Beach bank robber caught by FBI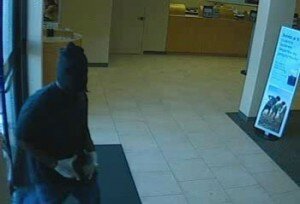 Kelvin Gibson, age 30, was arrested on Friday, June 25, 2010 in Dania Beach, Florida by the FBI. Gibson has been charged with robbing Wachovia Bank in Hallandale Beach, Florida. The FBI is now seeking information regarding his accomplice who has not yet been apprehended.
According to the complaint affidavit, on June 21, 2010, defendant Gibson and a second individual robbed the Wachovia Bank located at 1201 East Hallandale Beach Boulevard, Hallandale Beach, Florida. Gibson and the second robber walked into the bank carrying handguns and wearing dark blue shirts, jeans, masks, and white sneakers. The second robber pointed his firearm at customers and employees in the lobby, while Gibson jumped the teller counter. While vaulting the counter, a magazine fell out of Gibson's handgun, which was later recovered by law enforcement officers. Gibson then pointed the gun at tellers and demanded money. The pair left with approximately $25,000.
The next day, law enforcement received a tip that Gibson was one of the bank robbers. Based on witness interviews and surveillance video, Gibson was seen shortly after the robbery scaling a fence in the back of his residence in Dania Beach, Florida, wearing a dark blue shirt, jeans, and white tennis shoes. In addition, a Hallandale Police Department Crime Scene Technician matched a fingerprint found on the magazine left at the bank with Gibson's left ring finger fingerprint.
Gibson will make his initial appearance in Fort Lauderdale tomorrow at 11:00 a.m. before United States Magistrate Judge Lurana S. Snow.
If anyone has information regarding the identity and/or location of the second bank robber, they are urged to call the FBI at (305) 944-9101.
This case is being worked jointly with the Broward Sheriff's Office and the Hallandale Beach Police Department.
A Complaint is only an accusation and a defendant is presumed innocent unless and until proven guilty.
Related posts:
Ft. Laud police investigating bank robbery
Short URL: https://browardnetonline.com/?p=8639
Posted by
AdamF
on Jun 28 2010. Filed under
Broward County
,
Crime
,
Dania
,
Fort Lauderdale
,
Hallandale
. You can follow any responses to this entry through the RSS 2.0. You can leave a response or trackback to this entry